Silky Underwear
Dusting Powder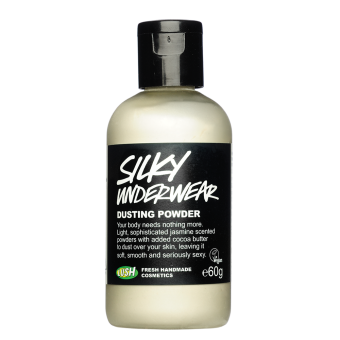 This dusting powder is the ultimate finishing touch; with cocoa butter and cornstarch to soften the skin and a sophisticated and sexy yet delicate jasmine and vetivert fragrance. After bathing or showering, shake a delicate layer of this moisturising, dusting powder all over your body for velvety soft skin. Our jasmine and vetivert fragrance is sophisticated and subtly sexy. With a dusting of Silky Underwear, you won't want to wear anything else.
List of ingredients
Natural Ingredients
Safe Synthetics
*occurs naturally in essential oils.
We do not test our finished products on animals. We also only purchase from ingredient suppliers who do not test on animals. More.
Most Helpful
5 / 5 people found this helpful
Fantastic power with an amazing scent; I use it daily. To give you the blunt information that you need, it won't prevent chub rub (nothing truly prevents chub rub, just buy little shorts to wear under your skirt/dress - trust me, I've been fat for years) but it's a great guard against groin chafing and will really take the edge off an underboob sweat. Top work LUSH.
I have bought this powder forever and it never fails to disappoint. It makes your skin soft and it smells divine. I will be devastated if they ever stop making this!!!
Latest
6 months ago
Hayleycoppleman_2026002
About 6 months ago
Silky undies and rump are the best combo for chafe! Not only does it have a beautiful relaxing scent but it's truly amazing! I've been a big sweaer for ages and this helps so so much! Would highly recommend
Most Recent
Most Recent
Most Helpful
Top Rated