Sea Spray
Hair Mist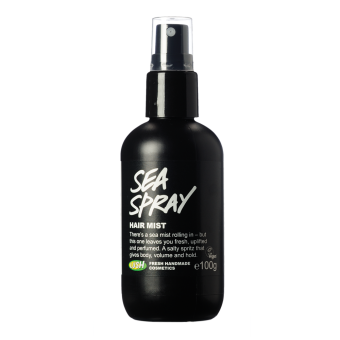 Get that beach hair look with this salty spray that gives a light hold and adds shine, leaving a neroli, orange flower, grapefruit and rosewood scent. We've used carrageenan, a seaweed extract, together with glycerine to hydrate the hair. Mineral-rich fine sea salt gives that volumised, beachy head look, counteracting the flattening effects of soft water and softens the skin on the scalp too.
List of ingredients
Natural Ingredients
Safe Synthetics
*occurs naturally in essential oils.
We do not test our finished products on animals. We also only purchase from ingredient suppliers who do not test on animals. More.
Most Helpful
3 / 3 people found this helpful
chels.j.evans
About 3 years ago
I had to review this because I couldn't believe no one has yet! I love this product, I have repurchased this sooo many times over. It walks all over any other hair texture sprays put there, it's beautifully natural and it gives my hair that beach feeling without being gritty or crunchy. Love!
Top Rated
5/5 stars
zubiarahmad82_1935661
About 5 months ago
i love the sea spray and it makes my hair so soft and shinny and i just love it
Latest
5 months ago
zubiarahmad82_1935661
About 5 months ago
i love the sea spray and it makes my hair so soft and shinny and i just love it
Most Recent
Most Recent
Most Helpful
Top Rated