American Cream
Conditioner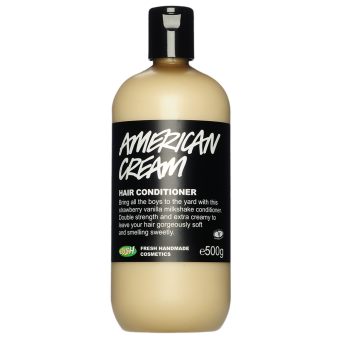 A milkshake-thick conditioner with a strawberries and cream fragrance to leave your hair soft and shiny. Fresh strawberries help cleanse the hair, and are rich in vitamin C. We've added a splash of orange juice to add gloss too, since its acidity makes the hairs' cuticles lie flat and allows it to reflect more light. To top it off, this contains soothing clary sage and calming lavender for your scalp.
List of ingredients
Natural Ingredients
Safe Synthetics
*occurs naturally in essential oils.
We do not test our finished products on animals. We also only purchase from ingredient suppliers who do not test on animals. More.
Most Helpful
2 / 2 people found this helpful
justxfelix
About 1 year ago
I bought a rather small bottle of this as I'd never tried it before and oh my goodness I need to go back to get a bigger bottle!! I adore everything about this conditioner, the consistency is good and it lathers up nicely. My hair is soft and silky and holy moly the smell is to die for!! it leaves a lovely scent to your hair all day, I can't get enough of it. I even sometimes run a little more through my hair as a leave in conditioner after showering because it smells so darn good.
Top Rated
5/5 stars
Reneekello01
About 2 months ago
American cream is one of my favourite scents from Lush aside from Twilight and my utmost favourite product the hunny bear massage bar which are the best little things ever. I used this conditioner tonight and it has left my hair soft and shiny, but most of all the smell is sensational and long lasting in my hair. Will match my American cream perfume which is sadly not being sold anymore. Thank you lush, your products have replaced yet another staple in my bathroom cupboard lol well done again!
Latest
2 weeks ago
Missbecki
About 2 weeks ago
I wanted to love American cream, it's smells amazing but leaves my long fine hair a dry tangled mess.

I've been researching and it seems to point to the sls in it causing the dryness.

So my question is why is there sls in a conditioner i thought it was only used in shampoos?
Most Recent
Most Recent
Most Helpful
Top Rated