Skin Drink
Moisturiser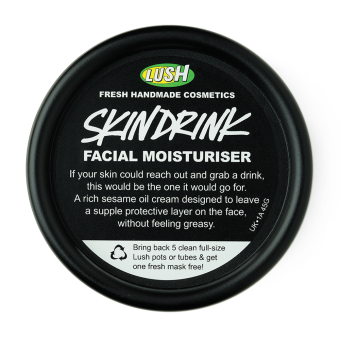 Quench thirsty skin with this cream packed with nourishing oils and butters, avocados, aloe vera and a light rose and orange neroli fragrance. Forming a light barrier against the elements, this is ideal for all weathers and is especially good for soothing the skin and helping it feel more supple.
List of ingredients
Natural Ingredients
Safe Synthetics
*occurs naturally in essential oils.
We do not test our finished products on animals. We also only purchase from ingredient suppliers who do not test on animals. More.
Most Helpful
1 / 1 people found this helpful
bella1206
About 4 months ago
I LOVE THIS MOISTURISER SO MUCH !!!!! aghhh its sooo good, it makes my skin softer than a kitten and when I wake up the next morning, my skin just has this delicious glow and the smell is SOO GOOOD... probably not for everyone though - I let my friend use it once and she said she hated the scent. I will say, you don't get a lot for your $$, but it lasts a pretty long time and it's DEFINITELY worth it. I'll be repurchasing for sure!
Top Rated
5/5 stars
Juliab2002_2007925
About 2 months ago
This product is so helpful, it's quite thick and non-greasy and has honestly given me a great experience with the Lush brand. After I moisturise my skin it is left shiny and fresh looking, the smell is strong however the quality makes up for it.
This moisturiser is great, it leaves the skin feeling very soft and radiant however it leaves a slightly oily feel to the skin which can sometimes be annoying if you need to get ready quickly as you can't apply makeup on top until it has completely soaked in. It has a very subtle scent that isn't overwhelming. I like this moisturiser but I will try something else next time. I would maybe repurchase in the future just to give it another try.
Most Recent
Most Recent
Most Helpful
Top Rated