Dark Angels
Fresh Cleanser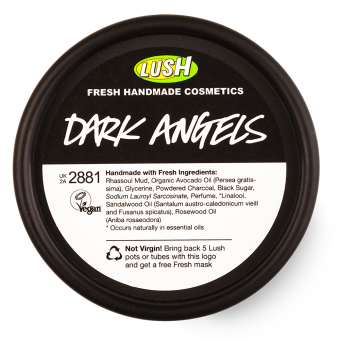 This is for those of you who really like to scrub your skin to feel clean, with black sugar and charcoal to exfoliate, and rhassoul mud to deeply cleanse. We also use cold pressed avocado oil and vegetable glycerine to moisturise and soften your skin after all that scrubbing, leaving your skin feeling balanced and fresh. Sandalwood and rosewood oils give a rich, earthy fragrance and have a cooling and antiseptic effect on the skin. We buy our powdered charcoal locally in Dorset. It's a great way to exfoliate and is deeply cleansing, whilst black sugar is in here to scrub away any dead skin cells, leaving you with bright, refreshed skin. 
List of ingredients
Sodium Lauroyl Sarcosinate

Black Sugar
Natural Ingredients
Safe Synthetics
*occurs naturally in essential oils.
We do not test our finished products on animals. We also only purchase from ingredient suppliers who do not test on animals. More.
Most Helpful
1 / 1 people found this helpful
Juliab2002_2007925
About 4 months ago
This product has good and bad features, it provides a good exfoliant for troubled skin however using the cleanser for about 3 weeks I have had a recurring problem with the removal of the black dye. The dye seems to stick onto the skin and is difficult to remove properly. Once it's completely gone my face feel soft, but I'm currently looking for a new cleanser.
Top Rated
5/5 stars
Ashley Forsyth
About 3 weeks ago
Absolutely love this cleanser/scrub!
Within a week of using it my milia have already begun to break down (without the use of harsh and pricey retinol creams) My blackheads on the sides of my nose have also disappeared and the pores look as though they are shrinking as well.
Very happy with my purchase and will be buying it again!
Love this cleanser!! Perfect thing to use to clean and exfoliate your face at the end of everyday. For people saying it leaves the black stuff, I use witch hazel as a toner afterwards and it gets it all off and makes my face feel SO soft. I had heaps of breakouts and after a week they've all calmed down after using that combo + enzymion moisturiser
Most Recent
Most Recent
Most Helpful
Top Rated