Dark Angels
Fresh Cleanser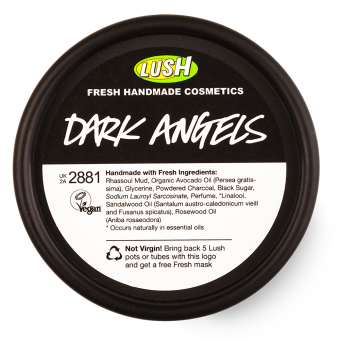 This is for those of you who really like to scrub your skin to feel clean, with black sugar and charcoal to exfoliate, and rhassoul mud to deeply cleanse. We also use cold pressed avocado oil and vegetable glycerine to moisturise and soften your skin after all that scrubbing, leaving your skin feeling balanced and fresh. Sandalwood and rosewood oils give a rich, earthy fragrance and have a cooling and antiseptic effect on the skin. We buy our powdered charcoal locally in Dorset. It's a great way to exfoliate and is deeply cleansing, whilst black sugar is in here to scrub away any dead skin cells, leaving you with bright, refreshed skin. 
List of ingredients
Black Sugar

Sodium Lauroyl Sarcosinate
Natural Ingredients
Safe Synthetics
*occurs naturally in essential oils.
We do not test our finished products on animals. We also only purchase from ingredient suppliers who do not test on animals. More.
Most Helpful
0 / 1 people found this helpful
cassief0917
About 3 months ago
I tried to use this daily and while it made my skin soft and less oily, I didn't notice any change. It was staining my skin and I had to scrub my face with a harsher cleanser. I had to give back the product and exchange it for another cleanser.
Top Rated
5/5 stars
carolynalexandra
About 2 months ago
When I first started using this I really struggled with removing it just with water, but after seeing a YouTube video by lush recommending removing it with a damp face wash cloth it's been working so well!!
Read More
Latest
1 month ago
erin.wilson.online_2039918
About 1 month ago
Whilst this scrub does a great job at exfoliating without being too harsh, it doesn't leave your face feeling dry, it leaves it feeling a little oily if anything. It has a very pungent smell of liquorice that can be really unpleasant. I wouldn't recommend this to anyone sensitive of smell. My biggest problem with this product is that it stains your face, The first time I used this, I had to really scrub with a wash cloth many times to get the black residue off.
Read More
Most Recent
Most Recent
Most Helpful
Top Rated