Aqua Marina
Fresh Cleanser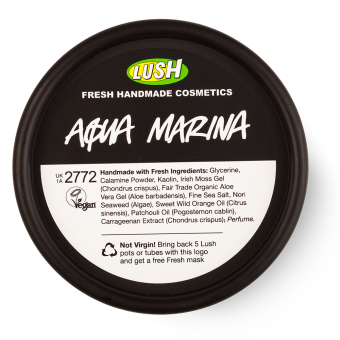 A mineral rich-seaweed and calamine face and body cleanser to absorb excess oils and leave you with a clear complexion. We use kaolin and calamine to absorb oil and cleanse the skin, and aloe vera to restore moisture. Irish Moss gel (a type of seaweed) is full of restorative minerals and vitamins, and we've even included a sprinkling of sea salt for very gentle exfoliation.
List of ingredients
Natural Ingredients
Safe Synthetics
*occurs naturally in essential oils.
We do not test our finished products on animals. We also only purchase from ingredient suppliers who do not test on animals. More.
Most Helpful
1 / 2 people found this helpful
d.linney1_1896566
About 1 year ago
This is the best cleanser I have ever used, not only from lush, but from anywhere. It makes your skin feel amazing and revived after using it. Definitely recommend.

This cleanser is the best I've tried and i've tried almost all the lush cleansers. It cleans the face from excess oil without stripping the face of its moisture and leaving it dry . When i wash my face it it my face feels amazing. It helps the skin retain the natural moisture and takes away the excess oil. I am very impressed. I mix it up with herbalism for the days when i need to scrub my face not just cleanse it.
Latest
3 weeks ago
katemarie.quigley
About 3 weeks ago
Similar properties and cleaning effectiveness as Fresh-Farmacy but not as good. Maybe concentration of salt a bit too high as it stings a bit (although that is good for exfoliating. Smell is ok, but not wonderful
Most Recent
Most Recent
Most Helpful
Top Rated