Ultrabland
Cleanser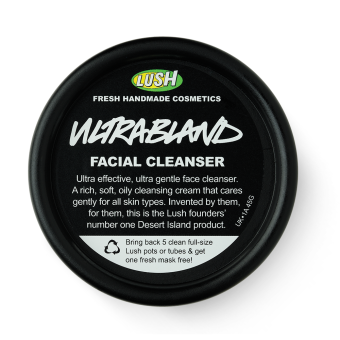 Based on an ancient Greek formula for cold cream, Ultrabland is beautifully simple and very effective. Made with almond oil, rose water, beeswax and honey, this cleanser removes all traces of dirt and makeup, without stripping away your skin's natural defences. Smooth over the face, any dirt will cling to the cream and you can remove it with a warm damp cloth or cotton wool. 
List of ingredients
Natural Ingredients
Safe Synthetics
*occurs naturally in essential oils.
We do not test our finished products on animals. We also only purchase from ingredient suppliers who do not test on animals. More.
Most Helpful
5 / 5 people found this helpful
cat_227_1869541
About 1 year ago
My flaky, red, hormonal acne prone chin needed some love and my friend recommended Ultrabland. I will never again use anything else. Within two weeks my skin had calmed down and I haven't had a big blemish since. If they stop making this I'll probably die.

Top Rated
5/5 stars
Mopsrob
About 3 months ago
This is my fave Lush product. I'm super lazy with my skin routine and this is the easiest clenser I have ever used. I don't have to wash or even wet my face. I can literally lay in my bed and rub this all over my face and then get a makeup pad and spray it with toner and wipe it off. I wear heavy make up and it removes everything. It leaves my face feeling great which is awesome but it also has cleared up my dry patches and regular blemishes. I'm in love.
Latest
2 weeks ago
Lizard86
About 2 weeks ago
This product is perfect for my combination skin!
It has evened out my skin tone and I've never had so many compliments. No more dry flakey patches or oily bits. My skin feels clean and hydrated.
This is definitely staying as part of my skin care routine.
Most Recent
Most Recent
Most Helpful
Top Rated