9 To 5
Cleanser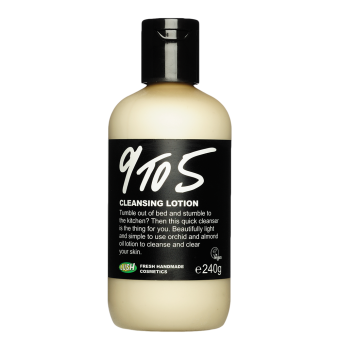 Take the day off and brighten the skin with this almond oil and dove orchid cleansing milk, to soothe and moisturise. This is a loose emulsion with an exquisite blend of floral essential oils to brighten the skin, removing all dirt and makeup. We use dove orchid for its soothing properties, and almond oil to make your skin feel refreshed after a hard day.
List of ingredients
Everlasting Flower Absolute
Natural Ingredients
Safe Synthetics
*occurs naturally in essential oils.
We do not test our finished products on animals. We also only purchase from ingredient suppliers who do not test on animals. More.
Most Helpful
2 / 3 people found this helpful
Tuppy505_1829036
About 2 years ago
It is in a bottle, and smells nice. It doesn't give you that squeaky clean feeling but is moisturising. Overall, it's great after a day's work for something quick and easy.
Top Rated
5/5 stars
IronicallySoap
About 1 month ago
I work long hours, so I often don't have time for the full Lush experience. 9 to 5 is PERFECT for a quick cleanse that makes me feel human again. I wouldn't use it every day, but when I don't have time, this is perfect.
My only problem with this Product is the fact that it has a really thick/heavy feeling on your face, other than that the product is perfect.
Most Recent
Most Recent
Most Helpful
Top Rated