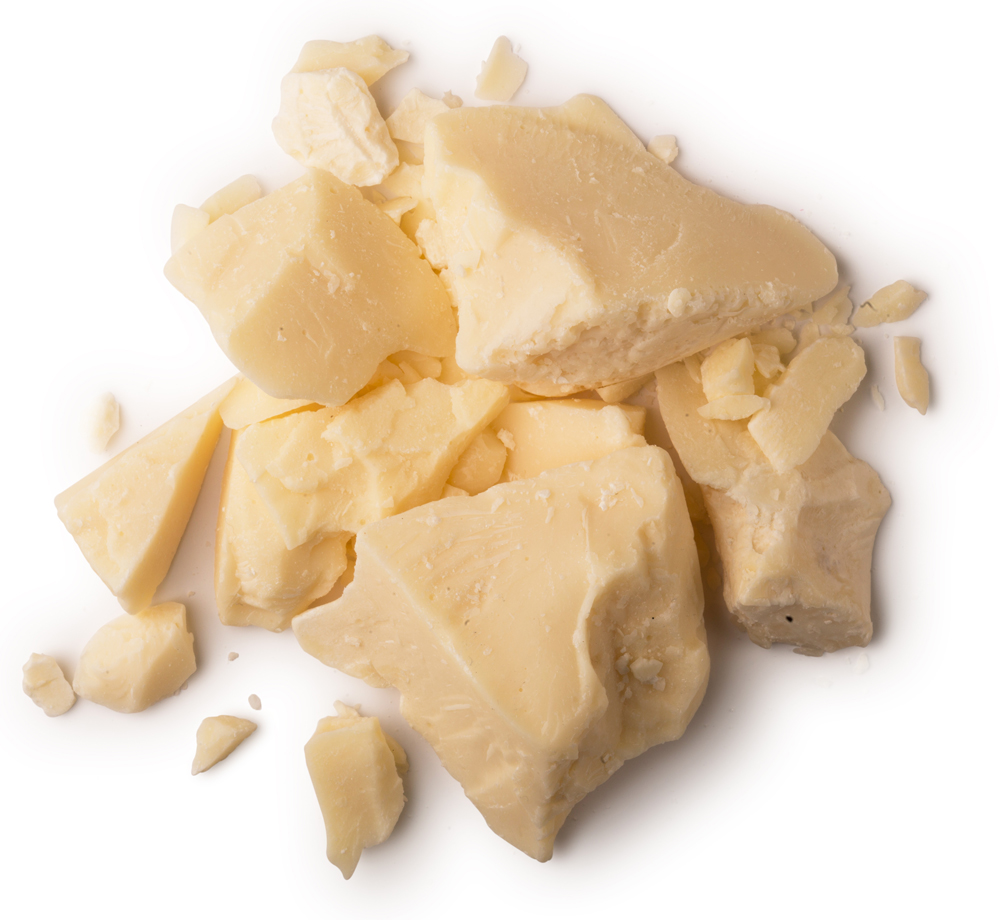 Softening and conditioning
Cocoa butter is a stable and dry butter. It can be used in combination with other natural butters to create rich blends. You will find it across an entire range of cosmetic products, including skin and hair care for its moisturising and conditioning properties.
Description
As well as being highly hydrating, cocoa butter is also a natural emulsifier, meaning it binds oil and water together to create a tight emulsion that does not leave space for microbes to move around and grow. Using cocoa butter enables some products to be self-preserving.
A cacao tree yields dark red or brown pods with up to fifty seeds each. To make cocoa butter, the seeds are fermented, which removes their bitterness, then cleaned, roasted and cracked. The resulting cocoa nibs are ground to a thick, oily paste called chocolate liquor.
There are three sources of butter used throughout Lush product ranges.
Fair Trade cocoa butter originates in the Dominican Republic and come through The Organic Growers Dominican Foundation (FUNDOPO), an umbrella organisation which works with approximately 1,500 farmers. Each grows cocoa on land averaging in size from 1.5-2 hectares and FUNDOPO ensures that these farmers get a fair price for the top-quality cocoa they produce.
The second supplier of Fair Trade organic cocoa butter is The National Confederation of Dominican Cacao Producers (CONACADO): they provide Lush with a non-deodorised butter that boasts a strong chocolatey scent.
10,000 farmers work together under the umbrella of CONACADO. Much like over at FUNDOPO, COCONADO members have together invested the additional income gained from going Fair Trade to: build processing and warehouse facilities to improve the quality of their cocoa; improve and repair schools; and provide technical training to improve yields.
Benefit
Cocoa butter is deeply nourishing and helps to keep skin soft and well-conditioned.
Time of harvest
April-June and October-December
Origin
Dominican Republic